#CFWCrewClub Membership has its Benifits!
Join for a Single Month or Subscribe & Save 50%
1. Exclusive Buyers Club Discount 30%OFF most everything* at CFW!
Including Leggings, Hoodies, and more!(PSST: The discount on leggings is more than the cost to join!)
2. FREE Shipping on US Orders!
3. Exclusive Members Only Shirt Each Month!
Order in MAY and Receive:
Warriors Never Quit!
*excludes items not eligilbe for discounts(subscriptions, closeouts, grab bags, etc..)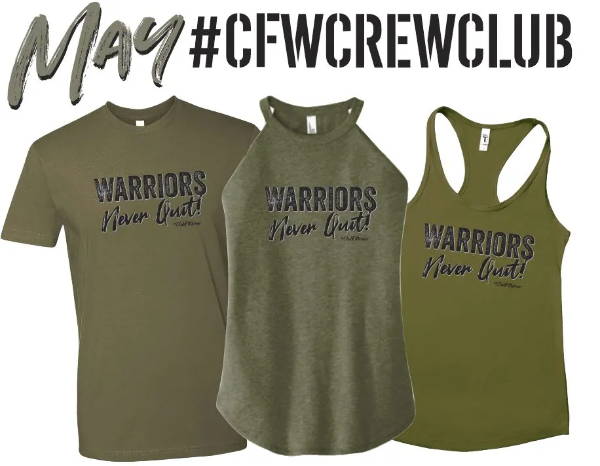 Current Members can Update Styles and Sizes in your Account or - Click Here
Become a #CFWCrewClub Member with our Tank/Tee of the Month Club Membership and enjoy these monthly perks...
Receive our Exclusive VIP Tank/Tee of the Month (order in May and get Warriors Never Quit!

 

on a Military Tank or Tee) Also available in Men's Tank, Premium New Era Tanks, and Premium Racerback Muscle Tanks.(shirt color may vary on premium items) Current members can switch styles in your account under manage subscriptions.
30% OFF VIP Buyers Club Discount Code on everything else with code CFWCREW good for 30 days after you join.
Pause/Skip Membership on Designs you don't want
Cancel at any time
Receive this month's current shirt when you sign up today!
Next month your billing will be moved to the 11th.
Current Members can log in to their clubfitwear.com account and update billing/shipping swap style shirts/sizes and skip a month under manage subscriptions.
Note seeing manage subscriptions you can request access thru this link.
https://www.clubfitwear.com/tools/recurring/get-subscription-access 
Recommended for the #CFWCrewClub Membership
Product title
$19.99 | $24.99
Product title
$19.99 | $24.99
Product title
$19.99 | $24.99
Product title
$19.99 | $24.99